About the Doctor.

Dr. Jennifer is committed to leading you to better health.
Her passion is leading people to discover the natural healing potential of the body and empowering them to experience it through chiropractic correction and creating a healthy chiropractic lifestyle. The intended result is an improved
quality of life allowing you to enjoy those things that
you enjoy.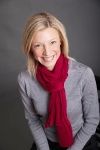 Dr. Jennifer McCurdy


Dr. Jennifer received her Doctorate of Chiropractic
from Palmer College of Chiropractic in 2001. After graduating she began a wellness practice in Edina, MN. There she
was active in the chiropractic community and served as
Chair of the Minnesota Chiropractic Association (MCA) Communications Committee and served as secretary in
the Metrowest District. She was recipient of the
MCA Presidents Award in 2004.

She returned to Iowa in November of 2004 and established McCurdy Family Chiropractic. She is a member of the Indianola Rotary Club, served on the Iowa Chiropractic Society Public Relations Committee, the Warren County Philanthropic Partnership board, and she has enjoyed volunteering with numerous organizations.

When she is not seeing clients she enjoys being outdoors on the trails, traveling, and furthering her chiropractic education.

Dr. Jennifer continuously furthers her post-graduate
education to help her clients live their best health potential. She successfully works with and designs protocols for clients at any age -from newborn infants to those enjoying their golden years. Simply put, her focus centers on removing interference and making sure the body gets what it needs.